Debit Cards (ATM Cards)
Life is easier with an elephant in your wallet!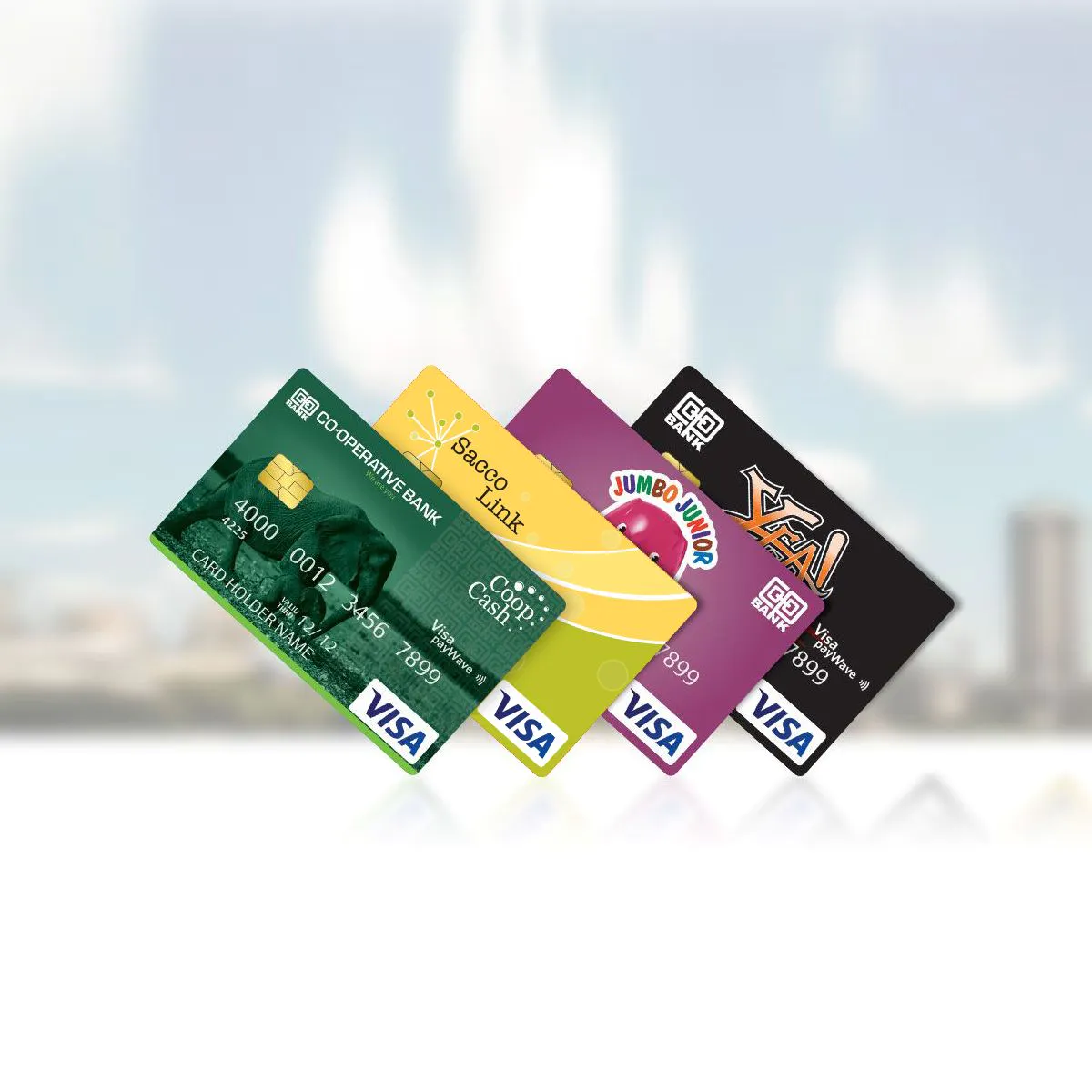 Apply for Visa Debit Card Faster, safer and more convenient than cash
Your Co-op Visa Card allows you to spend without having to carry cash around. It is a transactional card.
QUIT THE QUEUES
No need to queue at ATMs wasting valuable time to access cash. Your Co-op Bank Visa Card can be used to pay for fuel, shopping, dining, hotels, online transactions, utilities etc. without withdrawing cash from an ATM, as long as the merchant accepts Visa cards or where a Visa sign is shown
SAFETY AND CONVENIENCE
The new chip and pin technology helps prevent card-related crime. Each card has a tiny chip embedded to make the card virtually impossible to copy. Not only is the chip and pin secure, it's easy and fast to process which means shorter queuing at the till. No need to carry cash and small change to pay for your shopping at supermarkets and restaurants.
If your card is lost or stolen, call Co-op Bank immediately to let us know. We will block the card and hence protect the money in your account as well as replace your card.
FREE TRANSACTIONS
You can use your Co-op Bank Visa Card at thousands of merchants who accept Visa Card payments. In fact, you can use it anywhere 24 hours a day, wherever you see a Visa sign. Whatever your everyday needs, just use your Visa card for easy, safe and free transactions over a Point of Sale. When you use your Co-op Visa Card in a shop or outlet, you do not pay any extra fees, charges or commission.
SAVE MONEY
Paying for your purchases using your debit card is cheaper than withdrawing cash from the ATM, as you avoid the ATM withdrawal charges. You can pay for ANY amount using your Co-op Bank Visa Card and you will pay exactly the same amount you would have if you had used cash.
TRACK YOUR SPENDING
You get alerts on your mobile phone (if you have opted for them) every time you use your Co-op Bank Visa Card at a merchant. This allows you to see where you are spending your money in real-time and plan accordingly. Also, you can request a bank statement to see every location you have used your Visa card for easy tracking of your spending, which makes it much easier to plan your budget in real-time.
CARDS INCLUDE
Jumbo Junior
More Information
DO NOT share your PIN
DO NOT write your PIN on the card or anywhere else
Keep your card safe at all times
Do you have an enquiry? Talk to Us
By filling the form, you agree to our terms and conditions